It is Just a Little Air Leakage!
Thu, Jun 13, 2013 at 01:58 PM

When it comes to home energy efficiency improvements, one of the most important and yet the most commonly overlooked service – is air sealing.
Often misinformed by dishonest advertising claims from specialty contractors, many homeowners trying to lower their energy bills will most likely look into costly home improvements, such as window replacements and HVAC upgrades, before they even consider serious improvements in the house envelope like air sealing.
Savvier homeowners might request attic or crawl space insulation upgrades or weather stripping for doors and windows, but very few would think about the importance of having the home professionally air sealed. Yet, without control of air leaks within the home, there is no true system that is 'energy efficient' because air constantly leaks in and out of the home.
There is no such a thing as a little air leakage
Here are three interesting facts to consider:
The average home in America consumes 2 to 3 times more energy than it would need if all the existing systems were working at top efficiency.
According to the U.S. Department of Energy, in the typical home, an average of 40% of total energy consumption goes toward heating and cooling.
Studies show that the amount of air leakage in a typical American home is the equivalent of leaving a window wide open, 24 hours a day, 365 days a year.
Truth is: You can't live comfortably with a little air leakage within the home, much like you wouldn't live comfortably with a little leak in your gas tank, water heater, heating oil tank or pipes.
Sure enough, you don't pay for the air itself, as you do for water, gas and oil; but you do pay to heat or cool that air! If the conditioned air that you just paid to heat and cool the home is leaking out at a high rate and unconditioned air is being sucked in, then your HVAC systems have to work harder to keep up.
Air Sealing is not a DIY Job.
When homeowners do consider air sealing the home, they are more inclined to think DIY weather stripping kits, or the "winterization" job as performed by some utility companies, which involves weather stripping and some caulking around the windows and doors. This kind of approach sometimes will help certain areas feel more comfortable and less drafty, but sometimes it can also make matters worse and actually increase your energy consumption!
It all has to do with the laws of physics, and the way the air moves inside a building. Heat rises and eventually escapes through any gaps and openings it can find, usually in the upper levels of a structure. As a result, a low pressure area is created on the lower levels of the building, causing outside air to be sucked in from the basement or crawl space areas. That phenomenon is known in building science as the "stack effect". When you air seal the windows and doors in the conditioned space with weather stripping, without first taking care of air leaks in the basement, crawl space and attic, you are actually contributing to an increase in the stack effect. By increasing the negative pressure in the lower parts of the building and accelerating air movement, this forces your HVAC systems to work harder and ultimately increases your energy bills from frequent use.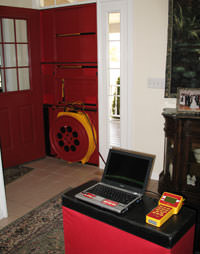 Also, due to safety concerns, you should never attempt to air seal any area of your home without the help of a professional. There has to be an acceptable and carefully measured air movement throughout the house, to control pollution and indoor air quality.
Using a blower door test and other diagnostic equipment, a professional energy conservation specialist will measure the air movement and leakages to pinpoint the areas with the highest amount of air leaks.
They will then perform the air sealing and measure progress along the way, to make sure the building envelope is brought up to optimum, yet safe energy efficiency standards.
An Investment that Keeps Paying Off
According to Dr. Energy Saver Solutions, a Duluth, Minnesota based company specializing in energy conservation and energy-saving services, homeowners report savings of up to 40% in heating and cooling immediately after having the home air sealed. They are also often surprised by the fact that, instead of having to upgrade to a bigger HVAC to heat and cool their house, they can actually downsize, because the existing one is more than they need!
Energy-saving improvements beat the stock market in terms of return per dollar invested, and air sealing is one of the most affordable energy improvements for the home. It is a one-time investment that keeps paying off in energy savings and comfort.