When the clock (tower) strikes Oct. 21 in the year 2015, will we finally be living the future as shown in the 1989 hit "Back to the Future II"?
Plenty of the high-tech gizmos shown in the film have already come true — from tablet computers to home automation and augmented reality. We even have reproductions of Marty's hover board and an Internet campaign to produce 15 new feature-length "Jaws" sequels to get the franchise up to the magic 19 shown in the film. But where oh where are those Nike Air Mags with self-tying laces?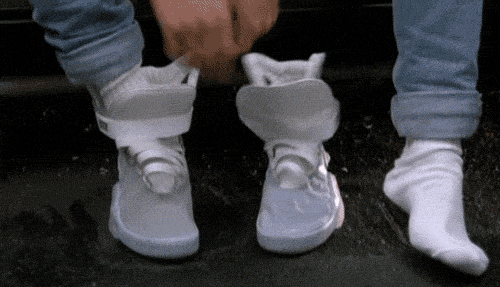 Yes, you could argue we're already half-way there with the limited-edition Nike Air Mags released back in 2011. Those awesome kicks were perfect in almost every way — from the design to the lights — but lacked the coolest feature of all: self-tying laces at the push of a button.
Thankfully, it appears the sneaker world is rising to the challenge. According to SoleCollector.com, Nike shoe designer Tinker Hatfield was asked about progress on the power lacing technology during an appearance at the Jordan Brand's Flight Lab space in New Orleans last week and gave a very encouraging answer.
"Are we gonna see power laces in 2015? To that, I say YES!" he said.
While the news is exciting, keep in mind that anything released to coincide with Marty's time-travel to 2015 is likely going to be very expensive. The 1,500 Nike Air Mags auctioned off to benefit the Michael J. Fox Foundation ended up raising an epic $6 million, with some pairs going for as much as $37,000 on eBay alone. Considering the success of that first fundraiser, we wouldn't be surprised if a sequel is planned.
But still — power laces! Now where's my auto-drying jacket?
Related on MNN: