Everyday bird conservation
Easy ways to protect, conserve and care for your feathered friends.
Sun, May 09, 2010 at 03:46 PM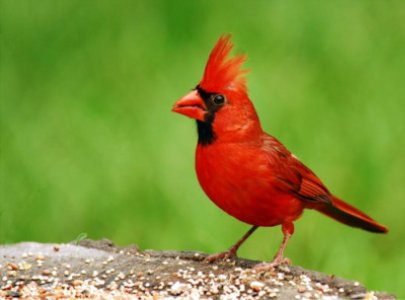 You can help bird conservation every day, around your own home and in your community.
• Put up a bird house, with proper ventilation, in your yard. Lots of interesting birds nest in houses, including the Eastern bluebird. As more and more habitat disappears, birds have fewer places to nest each spring. You can find a great selection of houses and knowledgeable help at
Cardinal Corner
,
Bennis Feed
and
Pet Stuff
 as well as other independent pet supply retailers.
• Put a bird bath in your yard to provide a year-round clean drinking and bathing water source for birds. If you live in a winter wonderland, use a heater. You can find a good selection of bird baths at
The Wild Bird Center
. 
• Erect bird feeders and nectar feeders in proper distances from windows or places where birds can't be ambushed by predators. Use appropriate seed and other foods. If you are looking to
hang feeders
, you can check out the products made in Minnesota.
• Limit the use of lawn chemicals and pesticides in your garden, which are harmful to birds, a variety of wildlife, household pets and children.
Natural lawn care
is easy to accomplish and you can start today.  
• Hang cutout silhouettes of birds, such as hawks, in large windows to prevent birds from colliding with the windows of your home. The
StarTribune
had an informative article about the best ways to help your feathered friends. 
• Plant native fruit and berry-bearing bushes and trees on your property for your birds to enjoy. Also, maintain ground vegetation and shrubs adjacent to water. Look up what plants work for your area by
ZIP code
. 
• Thousands of migratory songbirds are killed each year by colliding with lighted buildings at night because they are attracted by the lights. Conserve energy while saving the birds by shutting off lights or closing blinds.
• Stay on the trails when you are walking, hiking, riding bicycles and riding horses. Pay particular attention to and respect restricted sections of sensitive natural areas; this is really important during nesting season. I love to walk with our dogs, and I keep them on leashes to keep wildlife and birds safe. Remember to bring poop bags along to clean up any waste, too.  
• Spend your coffee money on shade-grown "bird-friendly" coffee. Forested, shade-grown coffee plantations benefit other wildlife and the people who live near there. Locally, you can feel good about purchasing coffee from Minneapolis'
Peace Coffee
. 
Please share your tips in the comments. Thanks for stopping by!
Photo: U.S. Fish and Wildlife Service
The opinions expressed by MNN Bloggers and those providing comments are theirs alone, and do not reflect the opinions of MNN.com. While we have reviewed their content to make sure it complies with our Terms and Conditions, MNN is not responsible for the accuracy of any of their information.