Plight of the prairie chicken
Lesser prairie chickens are losing vital breeding habitat in the shortgrass prairie. The culprit? Wind turbine farms.
Thu, Nov 26, 2009 at 10:17 AM
DISPLAYING PRAIRIE CHICKEN: A male displays on his lek in the shortgrass prairie. (Photo: stuartwildlife/Flickr)
Lesser prairie chickens are listed as
"vulnerable" by the IUCN
, but they're about as close to being on the endangered list as possible. Conflicting interests between landowners, conservationists and energy traders have put them in peril, but these conflicts have also kept them from being listed. Landowners seek to maximize profits on their lands by installing wind turbines to collect royalties, energy traders are eager to capitalize on the prime wind turbine locations and conservationists want the valuable habitat protected and rehabilitated. If put on the endangered list, all groups will have losses in the forms of landowner rights, energy potential and hunting.
Lesser prairie chickens (which will be referred to as LPCs for the sake of brevity) historically inhabited a large portion of the shortgrass prairie:
Cedar tree encroachment and habitat fragmentation by humans has significantly decreased their range. A new threat comes in the form of "green energy" -- wind turbine farms.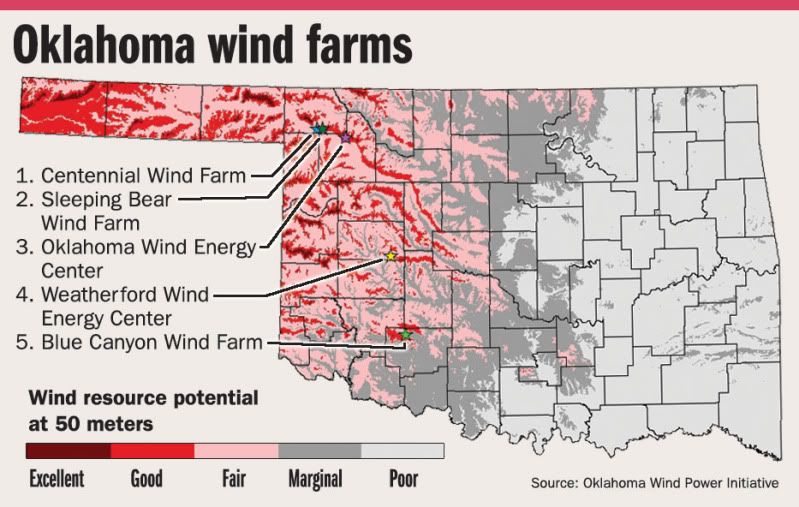 The optimal location for windmills happens to be the same habitat that is required by LPCs for breeding displays. These breeding display areas are called "leks," and they typically occur on sandy hills without any tall surrounding structures. Male LPCs are extremely vulnerable
when they're displaying
, and tall structures provide excellent perches for concealed raptors to detect prey. Thus, as an evolutionary safeguard, LPCs will not display on a lek with any adjacent tall structures, including cedar trees and wind turbines. When the lek disappears, the LPC population in the area crashes.
We've already driven one prairie chicken,
the heath hen
, to extinction. The heath hen occupied the native prairies along the Atlantic Coast, but lost most of its habitat due to agriculture in the 19th century. Greater prairie chickens, a slightly larger relative of LPCs, inhabit the Tallgrass Prairie and are doing much better than LPCs, although they are also being threatened by a loss of habitat. Lesser and greater prairie chickens were traditionally hunted in Oklahoma (and GPCs still are in Kansas), but they have been protected in Oklahoma since the 1990s when populations seriously declined. This may seem ironic to non-hunters, but getting LPCs up to huntable populations is the best long-term solution for preserving the population. Revenue and interest from hunters protects habitat and provides money to the local economy, which encourages interest in LPCs (and wildlife in general).
However, the news isn't all doom-and-gloom, as groups such as the Oklahoma Audubon Society, The Wildlife Society and groups of students have started preservation efforts in conjunction with private landowners to protect and rehabilitate habitat. The
Selman Guest Ranch
was selected as an Important Birding Area (IBA) by the Audubon Society in 2008, and volunteers, including society members and students, participate in flagging fences to reduce LPC collisions. These trips, known as
lek treks
, are a really good time, and a great way for conservationists to help out a species in need.
Thanks to Dr. Tim O'Connell, Dr. Craig Davis and Dr. Jim Shaw of Oklahoma State University for their expertise.

Photos:
Distribution map/Cornell Bird Laboratory
Wind power map/Oklahoma Wind Power Initiative
The opinions expressed by MNN Bloggers and those providing comments are theirs alone, and do not reflect the opinions of MNN.com. While we have reviewed their content to make sure it complies with our Terms and Conditions, MNN is not responsible for the accuracy of any of their information.