Emmaus/Upper Milford Earth-Day Cleanup, over 350 in attendance!
Fri, May 01, 2009 at 05:55 PM
I hope you all had a good Earth Day and had a chance to contribute to your own community. Whether it was a local event or a personal expedition, every little bit has a positive effect, no matter how small.
Here in Emmaus, PA we had a great time of our own picking up litter around town. As part of the EAC (Environmental Advisory Council) in my town, one of the main things we do each year is to organize the Earth Day Clean-up, an event we've held for the past 3 years, which has only grown since its first year. My personal responsibility this year was to make up the official EAC members' shirts, for which I was well suited because my high school has a screen-printing room. I got a friend, who is currently involved in an actual design course, to print up the shirts for me (he was getting class credit for them too, lucky kid) and they turned out nicely.
Going from sign-up sheets and the number of t-shirts we passed out, we calculated that over 330 people attended the event, probably closer to 360, including the council members. This fantastic turnout was 100 people more than last year's turnout, which meant we could spread out and pick up even more than last year. Between all the crews that went out, we collected a total of 225 bags of garbage, 3 Christmas trees (in March!), 16 tires, a load of scrap metal, and an A/C unit from along the roads of Emmaus/Upper Milford. Personally, I was involved with a smaller operation that went around to the local neighborhoods, spray-painting the curbside storm drains with a stencil reading "No dumping - drains to stream." We tagged all the drains in a residential neighborhood and then moved on to a busier street to tag those. I hope if anyone plans to dump paint/oil/household chemicals down those drains in the future, they'll reconsider. One can hope. Anyway, we all put in a good half day doing our respective jobs and then went for a celebratory lunch in the community park. We EAC members took a group shot to remember the event, and then we gradually disbanded and went home.
My mom came along with the camera and recorded some of the event, so I'll leave you with some images of our Earth Day.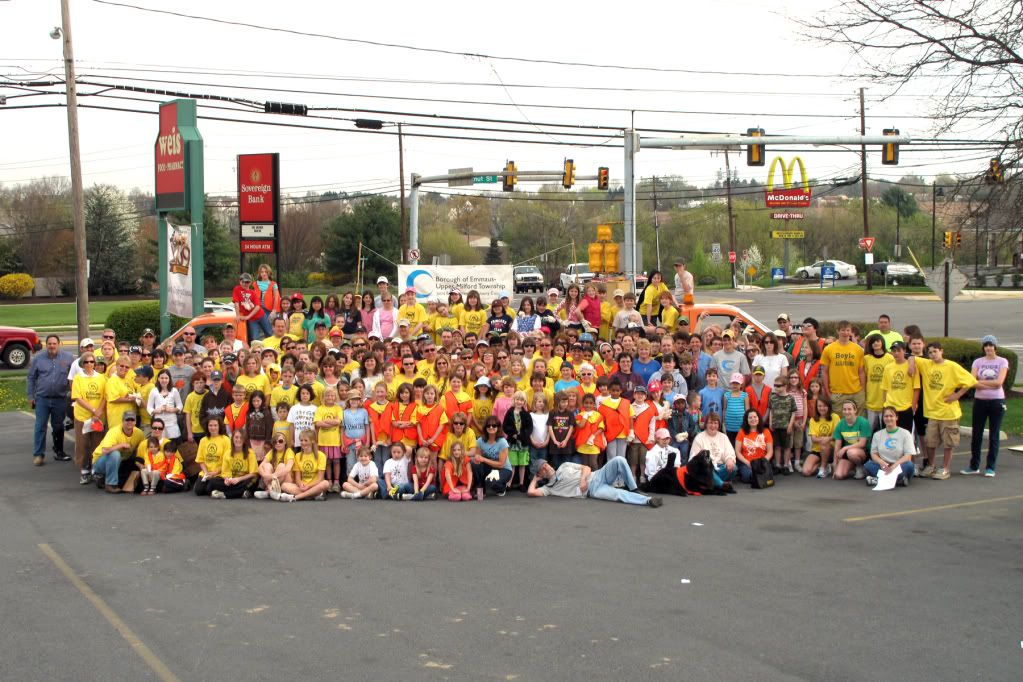 The group assembles outside of the Emmaus Weis before starting.
Some crew pick up garbage along the rail line that cuts through our town.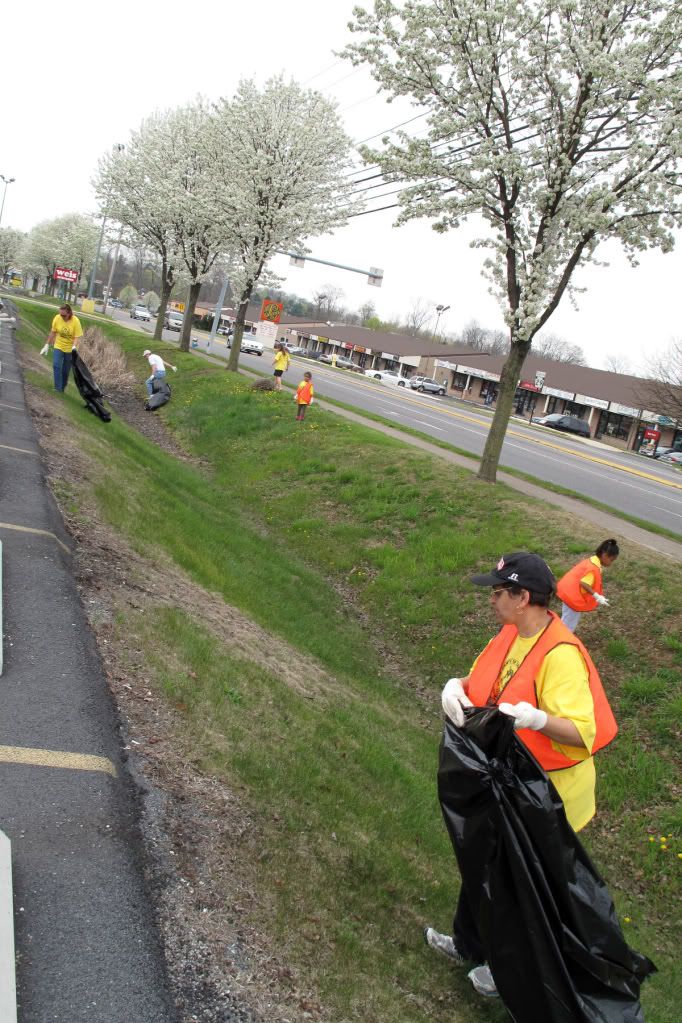 Another group of volunteers pick up garbage along the main drag near Weis.
One EAC member demonstrates how to properly use the stencil. I had already taken part of this program a few months back, so I already knew the deal. There were a lot of new-comers though, so I'm glad she did this.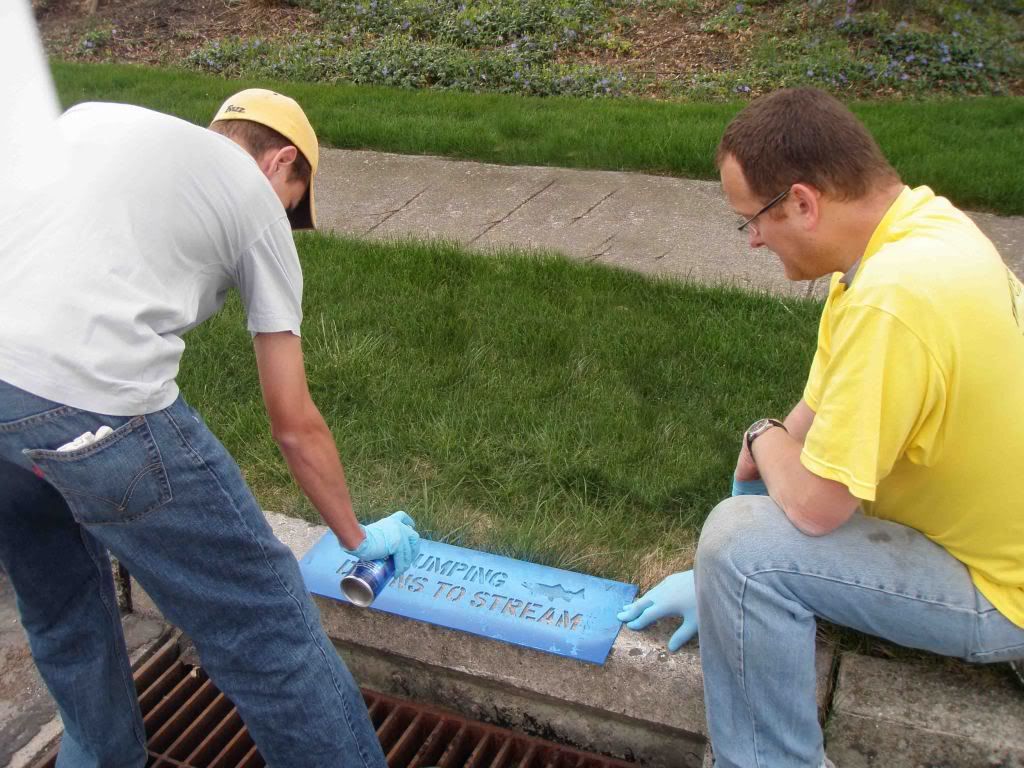 I tag one of the first drains of the day.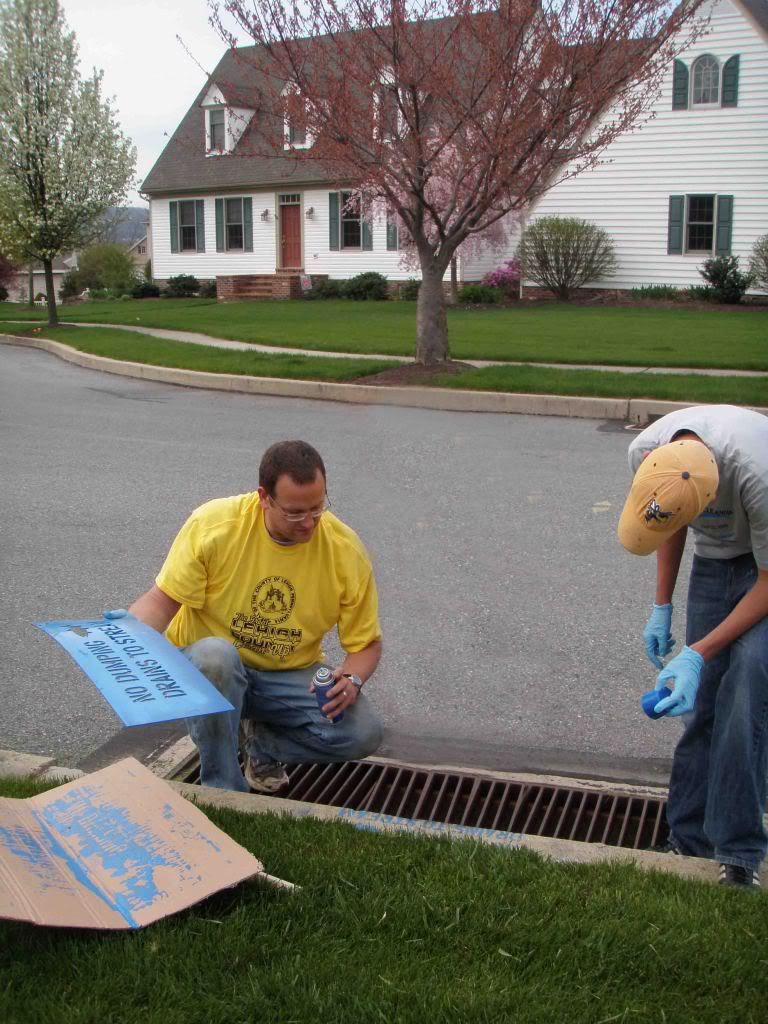 And another.
The EAC members we rounded up for a group picture. A few of them had already left, but oh well. That's me, second from the right.
Thanks for reading!
The opinions expressed by MNN Bloggers and those providing comments are theirs alone, and do not reflect the opinions of MNN.com. While we have reviewed their content to make sure it complies with our Terms and Conditions, MNN is not responsible for the accuracy of any of their information.