Mayor Dave Norris engages with UVA Students in Flash Seminar
Discussing civic engagement, sustainability and other issues in Charlottesville area through exciting new forum.
Tue, Mar 01, 2011 at 09:18 PM
Photo courtesy Brian McNeill/Daily Progress
Flash Seminars, a new idea spearheaded by undergraduate students at UVA, recently received international press in this
Feb. 20 article in the Washington Post
for its innovative way of engaging students with learning. Flash Seminars, which began last year, seek to engage students outside of the classroom by inviting a professor, staff member or in this case, the mayor, to come and lead a discussion on a particular topic of interest. Students at Boston College and UNC have already expressed interest in bringing Flash Seminars to their schools, while new UVA President Teresa Sullivan champions the idea.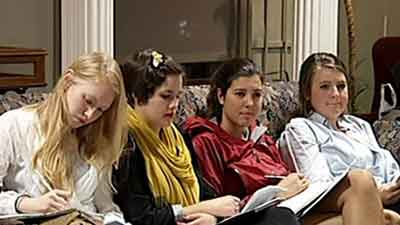 Click photo to watch NBC 29 Story on Flash Seminars
The most recent seminar I attended was entitled, "Charlottesville: The Best Place to Live in America (or Not), as told by Mayor Dave." In order to lay the framework for the discussion, Mr. Norris assigned the students to read
City Council's Vision Statement
and opened up the Flash Seminar with a brief overview of how the city operates and the many challenges Charlottesville faces. The discussion started off with the relationship between Charlottesville and the University over the years, which revealed an interesting observation: Charlottesville, not UVA, has often been the leader in progressive policies in the area. This seems quite unusual for any college town and sparked my curiosity to ask more about civic engagement.
While Mayor Dave pointed out Charlottesville's extraordinary engagement with over 700 non-profits in the Charlottesville area, he noted that relatively few of them engage in activism. I had recently researched sustainability student organizations at UVA, and found only one group out of 50 engaging in activism (
UVA Beyond Coal
). Mayor Dave mentioned to the students at the seminar how activism on the local level can be very powerful because it's much easier to get your voice heard. He gave a recent example of an anonymous activist who caught some sewage overflow on film,
posted it on Youtube
, and found his initiative resulting in the Virginia Department of Environmental Quality forcing the city to update its sewage system.
Mayor Dave's message of civic engagement at the local level left students rethinking how they approach activism and local politics — a takeaway message of a successful Flash Seminar.
The opinions expressed by MNN Bloggers and those providing comments are theirs alone, and do not reflect the opinions of MNN.com. While we have reviewed their content to make sure it complies with our Terms and Conditions, MNN is not responsible for the accuracy of any of their information.