Last week, personal finance website NerdWallet released an illuminating study ranking each state by how financially advantageous investing in residential solar can be for homeowners — states where installing rooftop photovoltaics not only allows homeowners to save serious dough but where there's also the possibility to earn money through cash back through utility-operated incentive programs.
Explains NerdWallet:
The cost of manufacturing photovoltaic (PV) panels continues to decrease. In addition, many states offer generous tax incentives, grants, and subsidies for homeowners combined with a 30% federal tax credit. Solar energy is increasingly accessible for American households especially with the expansion of solar leasing now into 15 states and net metering policies in 43 states.
A trio of states where vitamin D-blessed residents are perpetually working on their tans — California, Hawaii, and Arizona — top the list. However, it's much more complicated than that as an abundance of sunshine doesn't necessarily translate into a lucrative situation for homeowners given that southwestern states such as Texas (14th) Nevada (9th), and New Mexico (13th) appear further down the list. Current electricity costs, state incentives, and statewide solar capacity also play heavily into the equation which explains why non sun-drenched Mid-Atlantic states such as Maryland, Delaware, New York, and unlikely solar powerhouse
New Jersey
all ranked in the top 10:
The four key factors that guided the rankings, explained:
Are your electricity bills expensive? Solar is most advantageous for consumers who already face increasingly expensive electricity bills. Whereas, if your electricity costs are already pretty low solar may not save you money (especially leasing). To gauge this factor, we analyzed the average monthly electric bill for households in every state.

 

Does your state offer economic incentives that make the switch worth it? Many states, notably Massachusetts, Maryland, New Jersey and New York, have made commitments to helping residents' transition to solar and offer excellent incentives, tax rebates, grants, and subsidies for solar installation. The team at Solar Power Rocks has measured the quality of each state's incentives to provide a comprehensive score for all 50 states. We included these scores to measure state economic support for residential solar.

 

Is your state sunny enough to obtain energy through solar? The more sun your area gets, the more power your panels can generate. Thus, we accounted for average insolation, which is a calculation of the number of hours the sun is shining and how powerful its rays are when beaming down on each states' particular latitude.

 

Is there existing state capacity for solar? We also took into account how many Megawatts of solar energy the states' electric grids are currently producing to gauge current commitment to transitioning to renewable energy sources.
Head on over to NerdWallet to learn more about the top five states where homeowners should seriously consider investing in solar: California (high electricity costs, great incentives, plenty of sunshine), Hawaii (the most expensive electricity costs in the country plus seriously sunny weather), Arizona (ample southwestern sunshine plus generous local incentives), and Maryland and Delaware (while not super sunny, both states offer stellar incentives with the possibility to earn cash back per kilowatt produced from local utilities). All of the states in the top five offer
solar leasing
, as well.
Live in Nebraska, Alaska, Wyoming, Idaho, or North Dakota? Unfortunately, you reside in the states identified by NerdWallet as the least solar-friendly to PV-curious homeowners.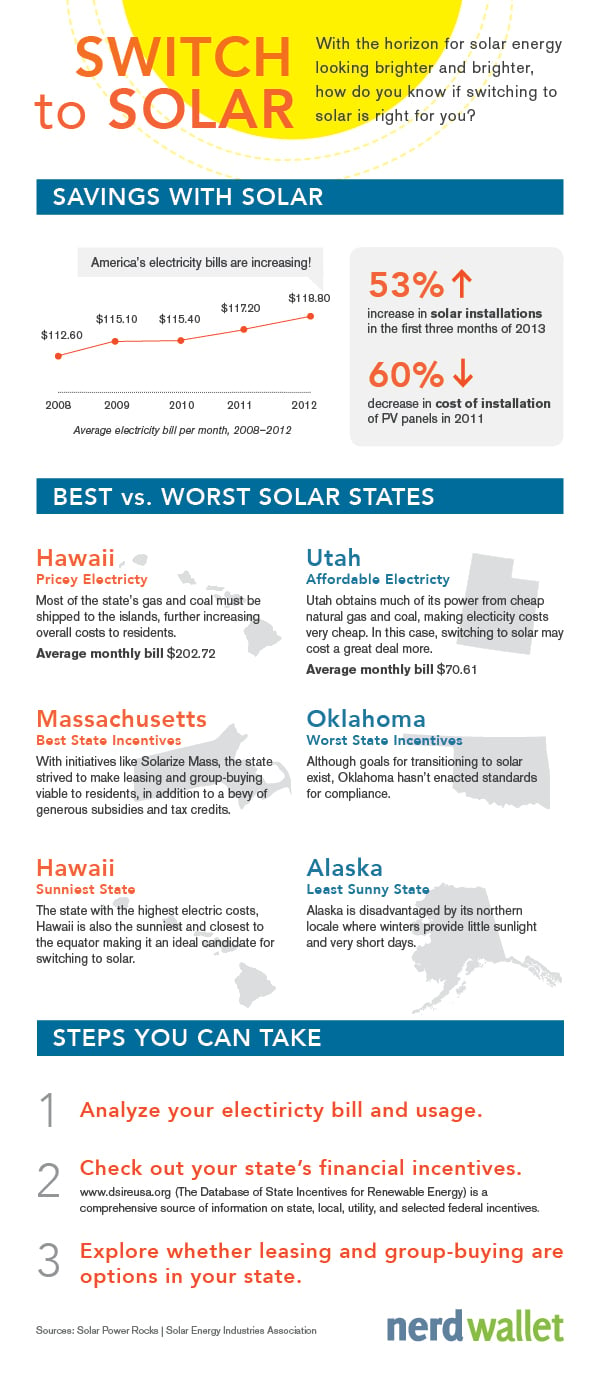 Similar on MNN:
Solar gain: 5 states where PV panels can earn homeowners extra green
Calif., Hawaii, Arizona, Maryland and Delaware come out tops in new rankings that examine the financial profitability of residential solar from state to state.